Planning and Budgeting for the Evaluation of Energy Efficiency Programs
Date: 

Monday, May 23, 2016
Time:

2:00 PM – 3:15 PM (EDT)
Reserve your

webinar

seat now
here
!
Please join the U.S. Department of Energy and Lawrence
Berkeley 
National Laboratory in collaboration with
EPA
for the first in a new series of
webinars
designed to support states considering and implementing evaluation, measurement and verification (EM&V) activities to document energy savings and other impacts of energy efficiency programs. In this
webinar
our panel of experts will discuss how states are establishing infrastructures, plans and budgets for their evaluations of efficiency programs funded by utility customers (ratepayers). State representatives who have developed EM&V strategies will share their experiences and lessons learned.
Topics covered:
1. EM&V Planning Basics and Frameworks – Steven Schiller, Senior Advisor, Lawrence Berkeley National Laboratory
2. State Examples of Planning Processes and Lessons Learned
Jennifer Meissner, Program Manager for Evaluation, New York State Energy Research and Development Authority

Katie Rich, Director, Infrastructure Policy & Homeland Security Coordinator, Public Utility Commission of Texas

Fred Gordon, Director of Planning and Evaluation, Energy Trust of Oregon
3. Questions and Answers With Panel Members
Who should participate?
This
webinar
series is intended primarily for staff from public utility commissions, state energy offices, state environment departments, and non-profit organizations and offers an opportunity to engage with others in similar roles. The
webinars
will be of particular value for state officials starting or expanding their EM&V methods for a wide range of efficiency activities including utility customer-funded programs, building energy codes, appliance and equipment standards, energy savings performance contracting, and efficiency programs that support pollution reduction goals or regulations. Evaluation consultants, utilities, consumer organizations and other stakeholders also are welcome to participate.
What topics are covered in this

webinar

series?
EM&V documents energy and demand savings as well as environmental benefits and market effects to determine performance of efficiency activities with respect to defined goals. EM&V can also be used to evaluate processes to improve implementation of efficiency programs. In this and future
webinars
we will provide an overview of the who, what, when, where, why and how of EM&V used to document energy savings and other impacts of efficiency programs.
Information on the

webinar

series,

webinar

slides and recordings, and additional
EM&V
resources are available
here
.
For more information or questions about this

webinar

series, please
email
.
---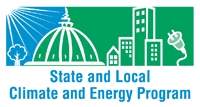 State and local officials interested in additional information about developing and implementing cost-effective climate and energy strategies that help further environmental goals and achieve public health and economic benefits may visit EPA's State and Local Climate and Energy Program site.
To subscribe to this newsletter, go to the Newsletters page.