Transitioning to Tomorrow's Buildings
Unique Opportunities for Local Governments Pursuing Sustainable Building Goals in 2021 and Beyond
With thanks to Angie Hacker, Sarina Soor, and Gabriela Yamhure for researching and writing this piece for CURRENTS.
The question of what buildings should be in the future is not new. However, the paradigm-shifting shocks resulting from the COVID-19 crisis in 2020-2021 have created a unique window of opportunity for cities and counties to accelerate changes in buildings that can support healthier, happier occupants, a more sustainable environment, a thriving economy, and changing community needs. From underutilized offices to changing needs for physical space and reliable energy, it still isn't clear what the "new normal" looks like now and whether our relationship with buildings is forever changed.
With due caution, this paper looks ahead to the future to try to understand what decisions local governments are grappling with as they consider what to do with both publicly and privately-owned buildings in the context of crisis recovery as well as stronger local, State, and federal commitments to climate change and equity. This report highlights how California's buildings were affected by the COVID crisis and explores why 2021 is a chance for local governments to implement innovative and sustainable building solutions across sectors to meet current and future needs, such as:
"The President recognizes the opportunity that retrofitting and modernizing our nation's existing buildings presents, which is why his American Jobs Plan American Jobs Plan promises to build, rehabilitate, and retrofit more than two million homes across the country while also improving our nation's federal facilities." 5/17/21 White House Factsheet
"Amid record-breaking temperatures driven by climate change, California's electricity grid will continue to be stressed more and more every year. The California Comeback Plan will help the state build a cleaner, resilient and reliable 22nd century electric grid." CA Governor's Proposed Budget
Adapting codes, permitting processes, and efficiency incentives to support businesses that wish to upgrade or repurpose underutilized buildings
Retrofitting and/or repurposing underutilized public facilities to lower costs, energy use, and meet new community needs from data centers to to low cost housing
Supporting telework for public employees to minimize the need for building space
Supporting economic recovery, including local revenues, by encouraging building retrofits and providing workforce development opportunities
Working locally and with State policymakers to improve energy resilience and reliability in homes and critical community facilities
As of June 2021, confirmed COVID cases in California have dropped to under 1,000/day, a major change from the peak of over 40,000/day in early January. Almost 19 million Californians are fully vaccinated. Most of the State's mandated public health restrictions ended on June 15th, allowing businesses and residents to return to a new "normal." But for many, the damage has been done and is still ongoing.
Figure 1: California's country risk levels as of June 8, 2021
The sections below explore how COVID affected buildings differently in each sector and questions local governments may consider about their ability to meaningfully intervene in solutions.
Commercial Sector
When the pandemic hit, thousands of businesses were locked down, and some remain shuttered, unable to make ends meet. Non-essential workers were not allowed to work at physical offices or spaces, even in industries that previously did not consider it practical to allow remote work like engineering, broadcasting, and even community services. A survey by Global Workplace Analytics found 77% of office-based workers were working from home five days a week in the early months of the pandemic, compared to only 9% before the start of the crisis. As a result, thousands of buildings were left underutilized or even vacant for much of 2020 and 2021.
While many workers are beginning to go back in the office, the changes in building norms and uses may be lasting. Some of the hardest hit businesses and buildings may continue to struggle disproportionately to restart operations. Buildings are changing hands from owners that couldn't manage the new overhead costs, and are therefore undergoing modifications through this transition. Additionally, some employees that can return to office spaces hope to continue at least some of their work week remotely. This means employers don't need to assign full time office space for each employee and can reduce their overall office presence. Businesses all over the globe are rethinking the role of buildings. In a recent blog post, ACEEE describes general commercial building trends:
"While total commercial building floor space continued to grow in the past decade, the growth did not occur in traditional office and retail sectors, but rather in service (40%), public assembly (39%), lodging (35%), and warehouse and storage (26%), according to the Energy Information Administration's 2018 Commercial Buildings Energy Consumption Survey. This provides evidence that offices and brick-and-mortar stores are facing disruptive challenges. In contrast, demand for lab space for life sciences (pharmaceutical, biotech, and other medical research fields) has been growing in many cities, while offices sit empty, according to the CBRE Real Estate Market Outlook."
While office space demand and prices may remain in decline, it is unclear if hotel and retail real estate demand and prices will bounce back. At the same time, demand for industrial, data center, life science and laboratory spaces is on the rise.
Key Question: How do local governments support the commercial building sector's changing needs both now during an economic recovery phase and in the long term while advancing local energy and climate goals?
Residential Sector
In 2020, homes became safe havens and work spaces like never before. The pandemic catalyzed shifts in what people were looking for in a home and a location. For example, densely designed major cities like Los Angeles are expected to continue to see population decline, but single-family homes in the suburbs are in higher demand. High demand and low interest rates have driven up residential real estate prices, exacerbating the State's housing crisis, particularly for low to moderate income residents.
As Californians sheltered, worked, attended online school, and socialized remotely at home, residential electric usage increased 15 to 20%. ACEEE's blog provides the following statistics on changing energy use trends:
"While energy sales in the commercial sector fell 11% during the first three months of the pandemic (April-June 2020), sales in the residential sector increased 8%, partly because of increased teleworking. A National Bureau of Economic Research study in April and May 2020 shows that half of the U.S. working population (employed pre-COVID19) worked from home."
Even before COVID, 30 million US households experienced high energy burdens, meaning households were spending more than 6% of their income on energy bills.  Communities with disproportionally high burdens include African American and Hispanic households, renters, older Americans, and those residing in affordable multifamily buildings, which are the same communities most affected by COVID-19. Job losses and increased usage has only exacerbated the burden.
COVID emphasized that reliable and affordable residential energy is a life preserver. Aside from growing dependence on the internet for work and other daily activities, many people get primary health, safety, and emergency information online during crises. Homes need reliable energy to power internet access and many other critical services like well pumps or power critical electricity-dependent medical equipment, all of which were essential during the pandemic.
To make matters more challenging, more frequent climate emergencies like wildfires and related PSPS events further threaten energy reliability.
Key Question: How can local governments help strengthen the access to clean, reliable residential energy and affordable housing?
Public Sector
Public real estate assets, like those owned by local governments, enable the delivery of important public services ranging from health clinics to recreational facilities. Public buildings are often long-term capital assets that can be expensive to maintain and operate, consuming a great deal of taxpayer funding.
During the pandemic, some public buildings were considered "critical facilities" and were used to expand essential community and emergency services.  At the same time, non-essential public facilities and schools were temporarily closed and many public employees were allowed to work remotely for the first time. Some services transitioned to online including courts, social services, and administrative functions. This shift prompted local governments to act fast to operationalize online functions and increase bandwidth, which meant creating energy-intensive technological solutions like data centers.
Key Questions: What should local governments do with public buildings that are temporarily or permanently unneeded? How can they reduce energy use and costs while ensuring energy service for critical facilities during crises?
A Role for Buildings in Avoiding Future Health Crises
Many climate change practitioners see COVID as a wake up call about global health. As the pandemic demonstrated, the more we can do to prevent severe and large-scale health crises, from COVID to climate change, the better we can avoid devastating economic and social consequences.
California's buildings represent an important way to avoid global health crises given their enormous impact on climate change. Buildings account for nearly 30% of global CO2 emissions, both through direct burning of fossil fuels for heating and indirectly through their electricity consumption. Residential and commercial buildings represent one of the largest sources of emissions in California (see breakdown in Figure 2) and a major opportunity to stave off the worst effects of climate change, which are anticipated to cause far greater consequences for our communities than COVID.
But with so many changes and uncertainties in buildings in all sectors, and new demands for local leadership on recovery, equity, and health, it can be overwhelming for local governments to know where to begin to intervene in ways that align with State and local energy and climate goals. In the next section, we outline some innovative opportunities and examples of local action on buildings that can provide food for thought as California marches into the future.
Amid pandemic recovery and other critical priorities in 2021, local decision-makers are faced with new opportunities and challenging decisions for how to achieve a vision for the future of buildings in their jurisdiction. While much attention has been given during COVID to public health directives to protect occupational safety, there are many ways that proactive and sustainability-focused municipal actions can transform California's buildings and benefit the people that occupy them, the businesses that depend on them, the workers that retrofit them, and the broader health of the community and environment.
This unique moment in history demands that local governments reevaluate how to use the tools and inventions they have always had at their disposal to advance the building market. As outlined below, innovative governments are finding new ways to achieve desired social, economic, and environmental goals through sustainable building programs, codes, facility management practices, and policy advocacy that address the sector specific needs outlined in the previous section.
Programs
Local governments can administer or promote innovative, voluntary incentive and assistance programs to advance building goals.
Programs Can Support Upgrading Vacant or Turned-Over Commercial Properties
The pandemic meant many commercial spaces were vacant either due to lockdown, downsizing, or turn over in leases and users, giving business and building owners an opportunity to assess and upgrade their stores, warehouses and offices. Some of this work has been cosmetic or shifting to a more flexible office space design. But commercial building owners and operators are also seeking to improve indoor air quality, lighting, fixtures, and equipment that also support building efficiency, electrification, wildfire resilience, and climate mitigation goals. In fact, State programs, such as incentives for lighting and appliance upgrades, led to a total of 5.3 million tons of avoided carbon emissions between 2010-2012 and 7.1 million tons from 2013-15 and 7.1 million tons from 2013-2015.
Administering or promoting upgrade assistance programs for commercial upgrades can help lighten the burden for those struggling to balance their books after a difficult year and a half. As the building stock continues to transition in the next year, local governments that operate or promote building efficiency programs may consider prioritizing commercial property owners and operators, especially small to medium businesses and disadvantaged or disproportionately affected communities. These programs can be designed to help address structural inequalities now and beyond the recovery period.
Examples
Workforce Development Initiatives Can Help Underemployed Building Professionals Gain Energy Skills and Income While Supporting Economic Recovery
Because local governments play a key role in helping people obtain skills and good jobs, they can be strategic about increasing the number of skilled workers needed to achieve a vision for decarbonized and resilient buildings in the future. Workforce development efforts in the building trades can support short term economic recovery and long-term goals for a climate-safe and thriving future.
In the last decade, energy efficiency has been one of the fastest growing fields in the nation, constituting the largest segment of the U.S. clean energy employment (2.1 million jobs in 2020). However, in April 2020, there were 975,000 job losses in the US building and construction trade. Roughly 600,000 people in clean energy jobs have been laid off due to COVID-19 impacts — more than double the number of clean energy jobs created since 2017. However, California had begun to adopt protocols that allow energy workers to be considered essential employees, and now some of these jobs are returning.
By expanding building efficiency, electrification, and other clean energy initiatives across sectors, local governments can create job opportunities for underemployed energy professionals. A California study by the UCLA Luskin Center for Innovation estimated that electrifying 100 percent of California's existing and new buildings could support an average of 64,200 to 104,100 net new jobs annually. Beyond the job creation opportunity, workers in the clean energy sector typically earn higher and more equitable wages compared to all workers nationally.
To meet the needs generated by these programs, local governments can also play a key role in building workforce skills and opportunities. Local governments should be on the lookout for federal and state recovery and stimulus resources aiming to grow the skilled workforce for clean and green buildings and other infrastructure.
Examples:
Back Up Power Programs Can Safeguard Residents
Installing a home battery or generator on a residential or non-residential building can be a vital solution to lessening or overcoming the impacts of a power outage or PSPS event on community members. Depending on the battery and how much households are using it, batteries can provide power for several hours, or longer. Battery storage can be an important component of a more robust emergency preparedness plan in the event of a power outage, and can help lower greenhouse gas emissions, particularly when coupled with solar energy. These systems can also reduce power outage-related calls for emergency services.
Examples:
Local Building Policies
Local governments have the authority to develop and enforce local plans, codes, and regulations to govern buildings and land use within their jurisdiction. How can regulation and policy instruments for the built environment be enhanced to improve local health, sustainability, and prosperity?
Updated Codes Can Support Repurposing Offices for Housing and Other Uses
If remote work continues, there will be opportunities to rethink office space and repurpose it for other community needs. For example, there is growing interest in converting spaces like underutilized malls and offices to apartments to help ease the lingering shortage of affordable housing. Given the heightened focus on health services, there is also growing demand for laboratory space, emergency operations facilities, and other community services. Some jurisdictions refer to these conversions as "adaptive reuse."
Local jurisdictions currently have the ability to adopt overlay zones for commercial or office zones that would permit housing or mixed use.  In fact, there are currently two California bills, SB 6 (Caballero) and AB 115 (Bloom) that would, if enacted, expressly allow housing in commercial or office zones with certain stipulations.
Local code changes for converted uses can be written to incentivize developers to include affordable housing and meet higher requirements for energy efficiency or decarbonization.
Examples:
Reach Codes Can Support Ambitious Net-Zero and Electrification Goals with COVID Recovery and Equity In Mind
More than 40 local governments in California have adopted ordinances to encourage electrification of buildings. Most of these focus on incentives or requirements for the use of electric, rather than gas-powered, appliances in new construction. These ordinances aim to help a community achieve carbon reduction goals and improve occupant health and safety. Still, these can be met with some level of resistance by segments of the community concerned about economic impacts on businesses and disproportionately affected communities and requirements that could stall construction.
Even with economic pressure at a new high, COVID has not stopped local governments like Sacramento (approved 6/1/2021) and Ojai (approved 10/27/20), from enacting electrification ordinances. However, these codes can be written to allow for a gentler approach that considers unintended consequences on small businesses and others impacted by the changes, which may be welcomed for communities struggling to recover after the pandemic.
Examples:
Delayed mandates: All or certain provisions of an ordinance may take effect down the line, giving the community a long period to prepare for changes. Sacramento's ordinance requires all new buildings under 3 stories to be all-electric by 2023 and extends the mandate to all new construction by 2026.
Exemptions and exceptions: Many building electrification ordinances, like the City of Santa Cruz's Prohibition of Natural Gas Infrastructure in New Buildings, exempt existing buildings undergoing alterations, additions, or tenant improvements as well as restaurants, facilities employing industrial process heat, projects in the public interest, and ADU's. Daly City's ordinance exempts affordable housing, commercial kitchens, and laboratories.
Equity provisions: The Greenlining Institute studied the challenges and opportunities that building electrification presents for low-income communities – 70 percent of whom are renters caught up in a housing and energy affordability crisis. Their five-step frameworks suggests local governments take steps to ensure understand barriers preventing community members from electrifying buildings, solicit deep community engagement, track benefits like local hires and energy affordability, and leverage programs to best assist low-income residents.
Local governments implementing electrification codes during COVID may consider assistance programs to support impacted businesses that may struggle to meet new code requirements.
Better Permitting Supports Sustainability, Housing, and Recovery
During the height of lockdowns, local governments were offering permit extensions and new online permit services to ease the challenges experienced by builders. Now that lockdowns are largely over, local governments can take a number of steps to lower some of the permitting obstacles builders face that can slow their efforts to meet local needs for building retrofits or more affordable housing. Communities can consider implementing changes to permitting processes to streamline or expedite processing, lower fees, offer incentives, ease restrictions, and/or include new supportive services to builders and property owners. Not only can expedited permitting support economic recovery, fees associated with these permits can help sustain local governments that have experienced budgetary shortfalls due to COVID, and can even be earmarked to support the building initiatives listed in this section.
Examples:
City of Santa Rosa: Santa Rosa was ravaged by the Tubbs Fire in October 2017, which destroyed 5% of its housing stock. In an effort to accelerate the wildfire recovery, get people back into housing, address their growing housing gap, the city created the Resilience City Permit Center to provide expedited permit approval for targeted neighborhoods at reduced permitting and impact fees, and provide new services such as heavy outreach and plan review assistance. Beyond enforcement, the City also modified ADU policies, increased building heights and reduced parking requirements to ease development. Because of the high volume of rebuilding permits and inspections processed (3,000) over the subsequent few years, the City produced cumulative revenue which outweighed the costs of additional staffing and contract support needed.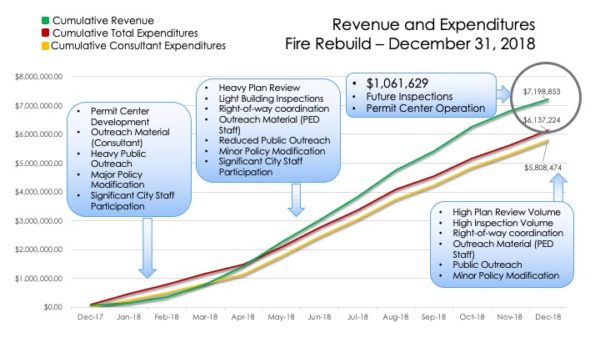 City of Richmond adopted in-lieu fees and density bonuses into their updated zoning ordinance to encourage infill and affordable housing.
County of San Diego developed a new "Self-Certification Program," which eliminates plan review by allowing a registered professional to certify a project's compliance with building code, standards, and ordinances.
City of Santa Barbara has a Business Liaison that acts as central point of contact for development projects, opening the lines of communication and offering solutions to issues or conflicting regulations, and will follow the project through to completion. The Business Liaison will facilitate communication between project applicants and City staff, and allow for a coordinated and efficient movement of applications between departments. This position reports to the City Planner until decisions regarding the formation of an economic development division or department are made.
Facility Management
As owners of facilities, local governments can upgrade or repurpose their public building assets, particularly offices no longer necessary due to telework. In doing so, local governments demonstrate a model for the rest of the community.
Extended Telework for Public Employees Reduces Local Government's  Need for Office Space
The pandemic showed that, with the right technology, many workers could effectively work from home. While not always seamless, the urgency of COVID triggered experimentation and resourcefulness amongst local government operations. By removing the expectation that their own employees always commute to the office, local governments can benefit workers and the environment.
A major effect of telework noted during the pandemic was the reduction in vehicle miles traveled, which has the potential to substantially lower greenhouse gas emissions. But telework also lowers government's demand for building space, and the resources used to support it.
According to International City/County Management Association, making telework policies permanent beyond lockdowns will require work such as identifying the right positions that are a fit for remote work (e.g. finance, IT, procurement, and planning) and obtaining the right technology to allow for connectivity and security.
Public Buildings Used for Other Community Needs
Given the interest in extending municipal telework policies, there may be opportunities for local governments to join the commercial sector in rethinking office spaces. Even the State of California is consolidating agencies into the same buildings in Sacramento because lasting telework and space sharing or "hoteling" arrangements mean that more workers can be accommodated with less space. Local government can think creatively about optimizing and repurposing these surplus public spaces for other community needs.
Examples:
County of Ventura converted office spaces in its campus to a data center during COVID to meet the growing need servers to support telework across departments.
Toronto, Canada: The city of Toronto launched an initiative to repurpose 18 city-owned properties into almost 13,000 affordable housing units.
Public Agencies Can Fast Track Retrofits
Similar to the earlier discussion on commercial properties, vacant or repurposed buildings offer an opportunity to make public facility upgrades. Local governments can fast track the procurement and construction of these municipal retrofit projects to take advantage of the unique circumstances that offer easier access, less disruption, and lower operational costs. These public facility improvements present an opportunity to push the building envelope further by incorporating innovative procurement requirements for public buildings to encourage the use of low carbon materials or by enforcing "dig-once" policies to simultaneously increase broadband or energy storage infrastructure.
Examples:
Sacramento: Just as the pandemic was taking hold, the City of Sacramento's Auditor developed a Citywide Innovation and Efficiency Assessment. This report recommended cost-saving and revenue-generating strategies. A key strategy was to implement an Energy Savings Performance Contract because it typically saves cities about 10% in energy costs. Projections estimated that the City could save approximately $10.4 million over the next five years.
The SoCalREN Integrated Comprehensive Whole Building Retrofits Public Agency Program provides technical assistance to local governments and districts to implement energy efficiency retrofits for public buildings. In 2018, the program completed 118 energy and/or water efficiency projects, and produced nearly 15.6 Million kWh in energy savings.
The City of Copenhagen (Denmark),is fast-tracking municipal construction projects at an accelerated pace, which are estimated to create between 50 and 100 new jobs in the city administration. This is facilitated by lifting of restrictions on capital expenditures on public procurement.
ESCOs are one way local governments can fund these public retrofits despite the circumstances. They may also look to greater levels of federal community and economic development funds to pay for public improvements and facilities like the U.S. Department of Housing and Urban Development's (HUD) Community Development Block Grant (CDBG) or the U.S. Department of Commerce's Public Works and Economic Adjustment Assistance programs.
Energy Storage or Community Microgrids Can Boost Community Resilience
In 2021, California local governments are especially focused on the importance of reliable, resilient energy systems for critical public facilities, especially during crises. Energy storage systems (or batteries) on public facilities that house emergency services, sheltering sites, water treatment, and other key services can provide energy savings and community-wide benefits, especially when integrated with solar energy and microgrid controls.
Examples:
CleanPowerSF: This CCA installed a rooftop solar and storage at a local high school, which was designated by San Francisco's Department of Emergency Management as a Resiliency Site, where services can be provided during and in the aftermath of emergencies. The City is now planning to use the same solar + storage approach at a recreation center and library.
Clean Power Alliance: This CCA is currently working with its 31 local government members on a project that will facilitate the installation of clean energy backup power systems at local critical facilities used by the community for disaster preparedness. The installations will provide on-site generation to serve customer load, allow CPA to use the batteries for load shifting and resource adequacy purposes, and provide backup power during power outages and other moments of community stress. The program will help member agencies' public works, emergency management and municipal finance staff become well versed in how to install, use and account for these types of systems.
City of Gonzales: This central coast City is building the largest multi-customer microgrid in California. While the City's new Gonzales Electric Authority will own and operate the microgrid, it will sell uninterrupted, mostly-renewable power to local businesses who have experienced significant losses from PG&E PSPS events.
Policy Advocacy
Local governments can individually and collectively voice their interests to larger political bodies like the State legislature, Public Utilities Commission, or Congress to advocate for the needs of their communities on a variety of topics, including buildings. Below are several examples of regulatory, legislative, and budgetary policies that local governments might support in 2021 to move buildings into the future.
A Sustainable Recovery
Local governments can advocate that state and federal recovery policies should trigger investment to "build back better" and increase society's resilience to future crises, disruptions, and costs, while creating jobs and economic stimulus. Notable recovery policy and budgetary opportunities that can advance buildings include the California Comeback Plan, American Rescue Act, American Jobs Plan. Recovery and stimulus policies are a rare opportunity to infuse significant resources into interventions like expanding energy efficiency tax credits, funding public retrofits, supporting workforce training in the building trades, researching and scaling sustainable building breakthroughs and technologies, or launching a new comprehensive national building retrofit program.
Examples

:
C40 Global Mayors launched a COVID-19 Recovery Task Force to rebuild cities and economies in a way that improves public health, reduces inequality, and addresses the climate crisis.
California's May Revise: California's surprise surplus provides an opportunity to invest in a "California Comeback Plan" as part of the May Revision to the 2021-2022 California budget. Governor Newsom's proposed plan makes commitments to climate change, wildfire resilience, housing and economic recovery. Provisions include a $750 million Community Economic Resilience Fund to support high road transition collaboratives and grants to design and implement the region's inclusive and sustainable economic future. The proposed plan also invests $7 billion to expand broadband infrastructure to increase access and affordability.
Buildings Powered by Resilient Energy Systems
Local leaders can advocate for State policy and regulations that enhance the reliability of California's energy grid and empower more community energy resilience.
Examples:
State Building Energy Code Updates
The 2022 Building Energy Efficiency Standards (Energy Code) will improve upon the 2019 Energy Code for new construction of, and additions and alterations to, residential and nonresidential buildings. Workshops have been held to present revisions and obtain public comment. Proposed standards will be adopted in 2021 with an effective date of January 1, 2023. Local governments have been recruited by some organizations to encourage greater commitments to electrification.
With over 600,000 people dead due to COVID and so much else lost, it's hard to see a silver lining in the last year and a half. This paper suggests that the crisis has presented an opportunity to shift to better buildings, with multiple benefits for communities.
There is no denying the enormous impact the pandemic has made on buildings. Buildings are so much more than brick and mortar. They are consumers of resources. Shelter for families. Pathways to work. Buildings can even help address long standing inequalities and protect communities from health and climate disruptions. Returning to "business as usual" after the pandemic isn't the goal for many who feel that our built systems did not adequately consider the long term health and wellbeing of our natural resources or our communities, and placed certain populations at a disadvantage. Greater prioritization for health, safety, and decarbonization in 2021 could usher in a long-term trend of investing in buildings of the future.
Local governments have a chance right now to use the tools and authorities at their disposal to make the recovery period transformational for the future of our homes, businesses and public facilities. For those that stand ready, recovery and stimulus investments are beginning to pour into local communities, offering an unprecedented opportunity to leap towards tomorrow's buildings. (For more information on local sustainable building funding resources, view CCEC's new funding resources page).
(For more information on local sustainable building funding resources, view CCEC's new funding resources page).